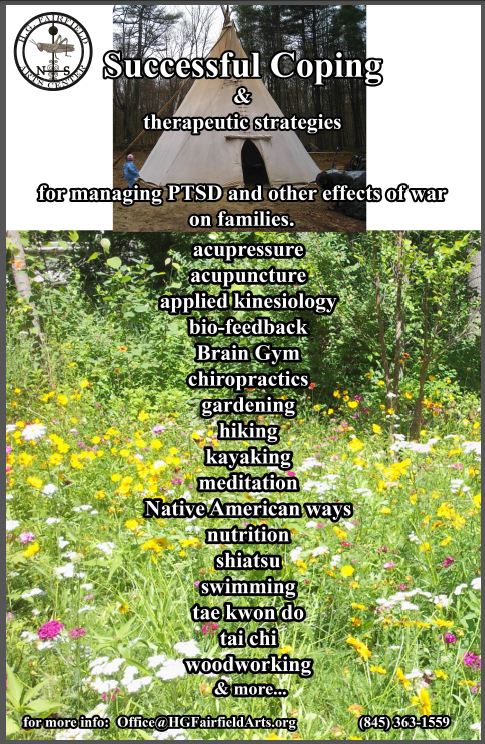 Brewster, NY. August 26, 2013. Beginning this Friday August 30th, 2013, from 1pm – 7pm, H. G. Fairfield Arts, in conjunction with the US Military Veterans Motorcycle Club NY4, will be offering a free wellness clinic to be held at the American Legion Post 1266 at 92 Pine Street, Wurtsboro, NY, 12790. This new initiative has been christened "Veterans Healing" and is expected to continue into the coming months, as well as reach out to other areas and Posts.
To start off the "Veterans Healing" Clinic initiative, Dr. Adrienne Fabrizio, a SUNY at Buffalo and NY Chiropractic College graduate, will conduct free chiropractic adjustments; each session should take 15-20 minutes. Dr. Fabrizio has managed her own successful professional offices of Carmel Chiropractic in Brewster, NY, for 28 years.  She is a member of the professional organization of New Beginnings Chiropractic. A formerly trained ballet/jazz/modern dancer, Dr. Fabrizio is still active in wellness education, healthy cooking, gardening, yoga, and skiing. Dr. Fabrizio was also a Founding Board of Directors member of H. G. Fairfield Arts and is Certified Clinical Nutritionist.
There is no fee for the "Veterans Healing" Clinic, although all donations are welcome. Please help spread the word amongst neighbors and friends who are veterans or immediate families of veterans and active military. Please bring your VA or military ID card (just to ID yourself) and we look forward to seeing you in Wurtsboro, NY, Friday August 30th, 1-7pm. Walk-ins are welcome, or to make a reservation, please call 845-363-1559 or email office@HGFairfieldArts.org.