Media Coverage       YouTube      Life Art Popcorn: The Picture House
Camp Herrlich Documentary
From The Herrlich Herald
March 2015
We are striving for Camp Herrlich to be the best and most well rounded program available for your children for Summer Camp.  Every year we grow and change and this year we are SO excited to announce two Artists in Residence who will share their talents and gifts with our campers.  These programs will be incorporated into our regular, fun-filled camp days.  Campers will get to spend at least an hour of their week with these excellent teachers.
Read on to learn more about them!
Summer Camp 2015: Artists in Residence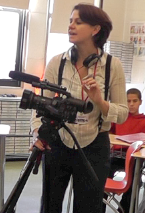 Stephanie Schleicher – Filmmaking
Presented in conjunction with H. G. Fairfield Arts' Media Workshop
Stephanie's Youtube Channel
Life Art Popcorn: The Picture House
Stephanie X's Website
Katonah Art Center
Stephanie will be
making films with our Sleepaway Campers during Session 1 (

July 6th – 10th

) and with our Day Campers during Week 9 (

August 24th – 28th

) 
this summer.  Campers from 2nd grade and up will write, film, and edit their own movies during these weeks!
Stephanie Schleicher, is a freelance videographer/editor with twenty years of experience teaching young people how to harness their creative power though film.  She has taught filmmaking, animation and editing for H. G. Fairfield Arts' Young Filmmakers Atelier at George Fischer Middle School, Katonah Art Center, Pelham Picture House, Jacob Burns Media Arts Lab, French Woods Festival of the Performing Arts, Pelham Art Center and Croton Academy of Arts.  Locally, she is proud to be the Media Coordinator for H. G. Fairfield Media Workshop in Brewster and also sits on the board for the Village of Brewster Film Festival.  
Ms. Schleicher has established dynamic, exciting curriculum-based video programs as an artist-in-residence for organizations and camps throughout New York state.  Stephanie has also conducted numerous elementary school, middle school and high school residencies, exploring everything from silent movies about immigration to documentaries about the presidential election.
Working as a freelance videographer/editor, Stephanie Schleicher  continues to produce and direct her own films, which have appeared in festivals internationally.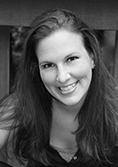 Nikki Sanders Siriani – Hip Hop and Musical Theater Dance
Nikki will be teaching Hip Hop during Week 6 (
August 3rd – 7th
) and Musical Theater Dance during Week 7 (August 10th –
14th
) and there will be a performance at the end of each day!  Campers of all ages will participate.
NIKKI SANDERS SIRIANI is a professional performance artist and has been a proud member of Actors' Equity since 2004. A graduate of the University of Connecticut, she has worked professionally as an actress, dancer, vocalist, choreographer, vocal coach and director throughout the tri-state region and has been developing children's theatre in Westchester County for many years. She found her love of theatre at age 8 while playing Annie and choreographed her first musical at 14 years of age, which quickly multiplied into over 25 full scale productions to date.
Her numerous credits include productions with Connecticut Repertory Theatre, Surflight Theatre, Seven Angels Theatre, and the Warner Theatre. Her favorite and most challenging role is Mom to her 4 1/2 year old twins.
Make sure to register your dancers for Weeks 6, (that is Sleepaway Session 3, our 1-week session), and 7 and your filmmakers for Session 1 for Sleepaway Camp and Week 9 for Day Camp. Any questions?  Just reply to this e-mail or give us a call.  CLICK HERE for our Day Camp brochure and registration form and HERE for our Sleepaway Camp brochure and registration form.  
Register before

June 1st

to avoid late fees
Copyright © 20XX. All Rights Reserved.