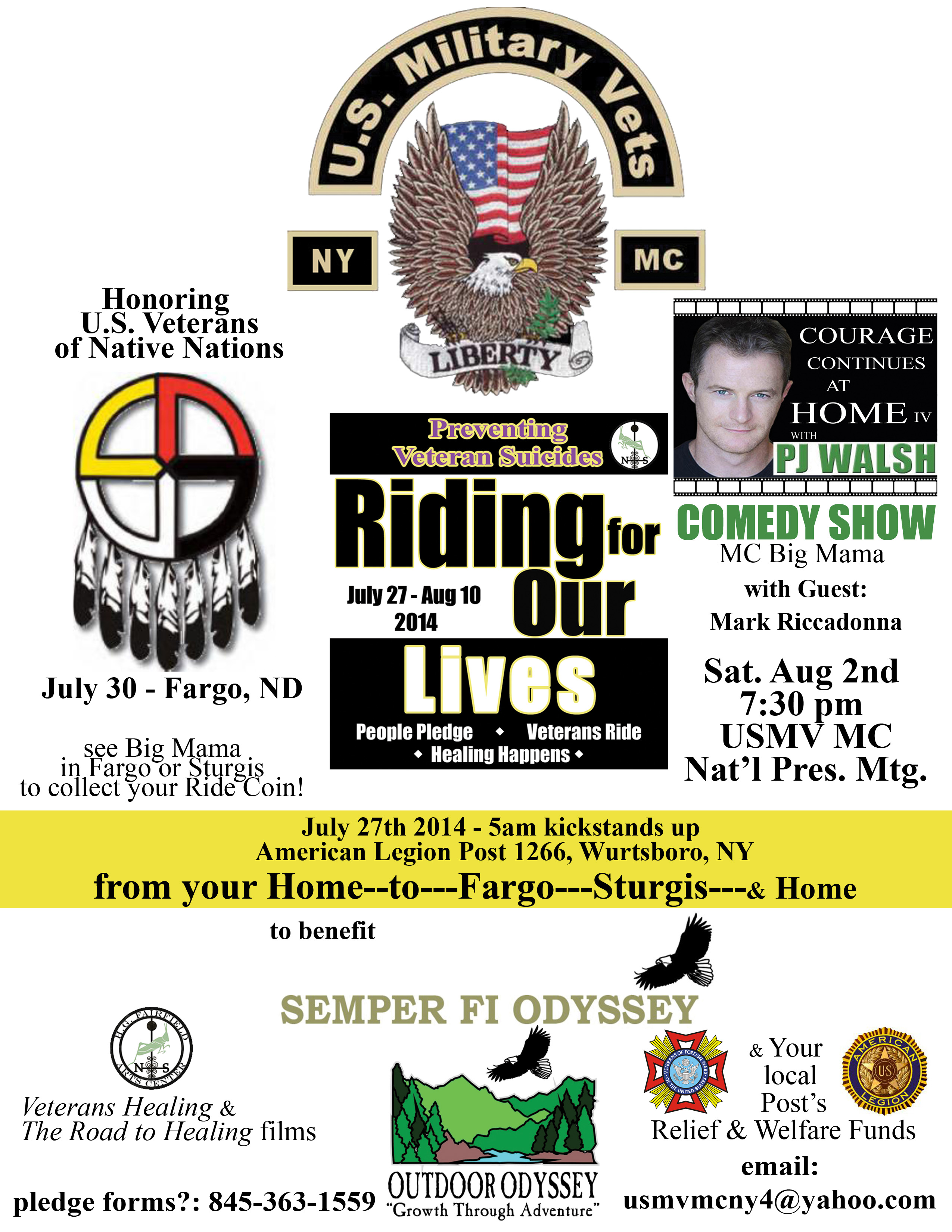 Who:
  USMV MC NY4  and H. G. Fairfield Arts invite you
What:
          to join us in supporting the 2nd Annual Run for Veterans Healing July 27 – Aug 10, 2014
            – "Riding For Our Lives: Preventing Veteran Suicides" –
            (see our sizzle reel on YouTube: Riding for Our Lives)(left), as we ride out to Fargo, ND, for the USMV MC
                National President's Meeting, then on to Sturgis, SD to join 500,000 bikers, and back home again  to raise   awareness, hope, & funds for veteran healing initiatives preventing veteran suicides.
When:
     leaving from your Post, home, or airport;
                Sun July 27 from American Legion Post #1266, Wurtsboro, NY, 4:30am kickstands up – by RSVP.
Where Press Conferences will be held en route: 
check our Riding For Our Lives Facebook page for locations
Tues July 29th 10 a.m. Decatur, IN
Wed July 30th 10 a.m. Madison, WI
Thurs. July 31st noon Sisseton Wahpeton Oyate Tribal Admin Building, Agency Village, SD
Friday Aug 1st 1pm 102nd St SE, Hankinson, ND 58041
And we are on to
Aug. 1st Friday Fargo, ND; USMV MC National President's Meeting Aug 1 – 3;
Sat. Aug 2nd Fargo Comedy Show with PJ Walsh, Mark Riccadonna, & M.C. Kim Blacklock;
August 4th on to Sturgis, SD, and home again by August 10th.
Why:
Because 2.5 million veterans have been coming back home after years of war and multiple deployments         and 33% of returning veterans suffer from PTSD with those numbers acknowledged as low reportings;
–          because the Rand Report* echoes other reports on the toll on veterans and our families              (http://www.rand.org/pubs/research_briefs/RB9336/index1.html): "only 53% of those who meet criteria for PTSD seek help, and less than half of those receive even any minimum of care"*;
–          because of the "direct … long-term individual and societal costs stemming from lost productivity, reduced quality of life, homelessness, domestic violence, the strain on families, and suicide";
–          because 22 veterans per day are committing suicide;
–          because "improving access to high-quality care (i.e., treatment supported by scientific evidence) can be cost-effective and improve recovery rates"*;
–          because our Veterans from the Vietnam War and Korean War are increasingly in poor health, the VA system is broken, the wait is deadly;
–          because we can help each other immediately by sharing what works, by creating supportive communities, and by getting our veterans taken care of through the skills and concern of our general populations, including the practices of Native American healing ways, to address successfully the myriad of issues around PTSD and soldiers returning from war. By the time a Native American is 18, 22% of their population is already serving – the highest per capita ethnic representation in the U.S. Military.
How:
By motorcycle, support vehicle, car, plane, whatever it takes to get there as we raise awareness riding cross country and interacting with towns and press to get the word out there to veterans and their families that there are active therapeutic ways to manage PTSD, TBI, & other mal-effects of war on the human body & on families, and there are people willing to help. As Bomber, USMV MC NYS President says, "Let's get our veterans taken care of!"
–   through people pledging, veterans riding, healing happens; through companies sponsoring & advertising;
through sharing the stories of what has worked for other combat veterans
                 (see our "The Road to Healing" veteran film project on YouTube – The Road to Healing: NY to OK),
–          through getting the word out there to communities and families, through networks of active therapeutic practitioners we've conducted free Veterans Healing Clinics in Sullivan County, NY, with a Chiropractor, Applied Kinesiologist, & Nutritionist; we've also linked practitioners giving free treatments to veterans in Oklahoma, California, New Mexico, & New York;
–          through supporting local veterans emergency funds for food, clothing, shelter, and access to medical care in the American Legion Welfare and VFW Relief Funds;
–          through supporting Semper Fi Odyssey, the holistic transition program run by MG Gen T.S. Jones (USMC, RET) in Pennsylvania, knowing it has worked for 700 wounded, injured, and ill discharged veterans, we want to support and build on what works;  http://www.youtube.com/watch?v=ON-U4WM-ZbM
–          through "delivering effective care and restoring veterans to full mental health [we] have the potential to reduce these longer-term costs [& the far-reaching and damaging consequences] significantly."*
Net proceeds from "Riding For Our Lives" will benefit Semper Fi Odyssey, local American Legion Welfare & VFW Relief Funds, and "The Road to Healing" veterans film series. All donations are tax deductible to the fullest extent of the law. Please make checks payable to H. G. Fairfield Arts, memo: RFOL & send to 31 Sodom Road, Brewster, NY 10509.
                We are joined again this year by national comedian PJ Walsh and H. G. Fairfield Arts' "Courage Continues At Home" Comedy Tour, with Guest Mark Riccadonna & M.C. Kim Blacklock.
For more info visit www.HGFairfieldArts.org, email: usmvmcny4@yahoo.com, call Lisa at 845-978-4666, Kim at 914-309-4887. Thank you for your support and kudos to Pepsi & Enterprise for helping out!